Welcome to the Design Out Crime & CPTED website
New Book: Think Crime! by Paul Cozens

Think Crime! is a new book by practical criminologist Dr Paul Cozens from Curtin University in Western Australia. It is available from Praxis Education for $49.95 plus postage. 'This book is the best available synthesis of information on CPTED' Professor Marcus Felson. Think Crime! describes practical ways of using evidence to identify best community safety interventions. It includes practical ready to use samples of forms and processes and many practical examples. It iswritten in an easy to read manner. Topics are well structured for practical use by community safety and crime prevention professionals (see TABLE OF CONTENTS below). The book describes the best practices and new directions in CPTED for crime prevention and security services, urban design, planning and architecture, development control and government agencies. Buy Think Crime! now. Click here.
New Book: Crime Prevention through Housing Design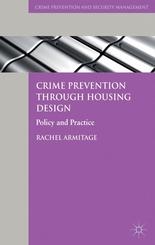 Crime Prevention through Housing Design is a new book by Community Safety criminologist Dr Rachel Armitage from the University of Huddersfield, UK. It is available from Palgrave (free sample chapter). Using  visual examples, the book bridges the practical gap between design and criminology, Armitage uses opportunity theories to provide practical recommendations for the implementation of design. 
Read more: New Book: Crime Prevention through Housing Design
Philosophy
Here at the Design Out Crime and CPTED Centre's website, you will find access to our services, along with news and resources on minimising crime, reducing antisocial behaviour and the development of anti-terrorism strategies through design of environments, products, behaviours, attitudes, social interactions and systems along with jobs and other information.
Linked-In CPTED Group
The Linked-In CPTED group offers a place for active practical discussion of DOC and CPTED issues by crime prevention and security professionals, students and researchers. The group has 1600 members  and is free to join - here. The manager is Severin Sorensen, CPP, who ran the US Government's largest dedicated CPTED program 1994-2002.
Smartphone insecurity
Smartphones can be easily infected with 'rootkits' that enable a variety of direct and indirect crime-related activities. Controlling a user's smartphone, enables activities such as eavesdrop on meetings, track the owners travels and flatten the battery, and act as an attack vector via automated activity .

RAC car thefts 2009
RAC car theft data for 2008/9 is interesting for the relatively low overall value of the car theft  problem compared to say motor vehicle accidents caused by crime-related or other issues leading to road deaths or accident damage.
Reduce crime -paint pink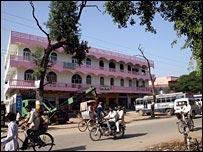 Think pink in India
(reported by e-DOCA)
A crime-infested town in the badlands of Bihar,  is painting itself pink to reduce crime. Aurangabad's facades  of most of the private and government buildings are painted a gaudy pink. "The town's sub-division officer Arvind Kumar Singh said. 'Pink fosters harmony'
Public CCTV
A recent systematic review and meta-analysis of data on CCTV  in public spaces shows benefits for crime prevention. The results are primarily driven  by relatively effectiveness of CCTV in car parks (51% decrease in crime). Other uses of CCTV were less successful  resulting an an average  decrease in crime of around 16% with 7% reduction in city and town centres and public housing.
Western Australian Tough on Graffiti Strategy 2011-2015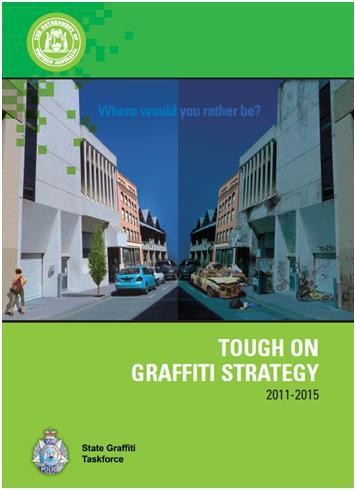 The new WA 'Tough on Graffiti Strategy 2011-2015' has been resulting in significantly reduced costs to local government for graffiti removal and the numbers of reports of graffiti in Perth's northern suburbs  of Joondalup and Wanneroo have halved in 12 months.
The 'Tough on Graffiti Strategy 2011-2015' replaces previous graffiti prevention initiatives. It can be downloaded from: http://www.crimeprevention.wa.gov.au/uploads/file/graffiti/Tough on Graffiti Strategy.pdf
The 'Implementation Plan' for the Tough on Graffiti Strategy describes the roles and responsibilities of the different agencies involved in implementing the strategy. It can be downloaded from: http://www.crimeprevention.wa.gov.au/uploads/file/graffiti/Tough on Graffiti Implementation Plan.pdf
Design Out Graffiti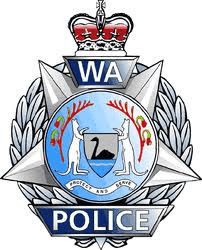 Designing out graffiti is about applying designing your environment to avoid graffiti .  The WA Police Graffiti Team provide useful  fact sheets  on designing out graffiti through landscaping, lighting & surveillance and protective coatings.
Designing out Graffiti - general overview.
Landscaping and Planting - design the surrounding landscape to reduce graffiti vandal's ease of offending.
Lighting & Surveillance - use lighting to deter graffiti vandals and enhance your safety
Protective Coatings - how to use protective coatings to reduce graffiti.
To start Designing Out Crime see, 
What is Designing out Crime
Risk Assessment Help-sheet
Lighting for Crime Prevention
Crime and Safety Survey
Workshop: Design of offender supervision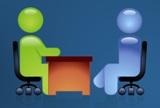 Workshop: New directions in the supervision of offenders. 30 - 31 August 2010, Building H, Room H1.16, Monash University, Caulfield.
Design of effective offender supervision is an effective Design Out Crime Strategy at one remove from the immediate crime situation. It is signficant in view of repeat crime and repeat victimisation.
Online Criminal Justice Degree Project
The Online Criminal Justice Degree Project seeks to provide resources that offer a more complete perspective  on the criminal justice system. It provides an additional online resource for those studying criminal justice that also looks at the weaknesses of criminal justice processes. It can be found at http://www.onlinecriminaljusticedegree.com
thecrimepreventionwebsite.com
Calvin Beckford, former Crime Prevention Designer in the UK London Metropolitan Police and former employee of ACPO Secured by Design has launched a new crime prevention website, thecrimepreventionwebsite.com .
3D Crime Prevention Tool Kit from SBD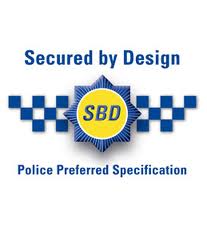 A new  free online 3D computer-aided design 'Toolkit' is available to help designers visualise using Design Out Crime  in houses. The 3D Toolkit has been made available by the UK Secured by Design group with Hampshire Police. It is primarily aimed at land developers and uses scenarios to identify design features likely to affect crime incidence for particular aspects of house design.